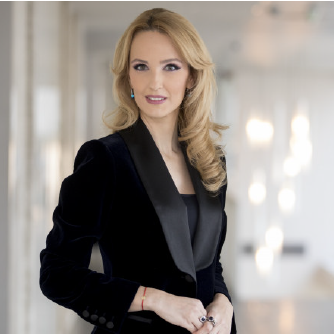 Teodora Tompea
Moderator
News anchor at Digi24, "Focus on Europe" host, "Planeta ești tu" host, Journalist, MC for events
Journalist since 2008, with good years spent on radio and television. He studied journalism in Iasi, where she was born, and completed it with a scholarship in Brussels.
She believes that every experience helps us to become, in the end, our best option.
Forum November 9
Investing in ROMANIA manufacturing - who's in it for the long term?
Which one suits you best? Investing on a long term tends to be a difficult task with a lot of uncertain measures about security in Eastern Europe; how can international investors be confident about setting up or expanding operations in Romania? How competitive will Romania be as a destination for investors? Which sectors are set to rise and what initiatives are on offer? This panel will discuss the feasibility of investing in digitalization in Romania and explore the current opportunities .
Forum November 9
What is the future of the Romanian car industry in the context of electromobility? 
The Romanian car industry must quickly make the transition from conventional cars to electric cars, the future of car industry being developed according to the European policy on environment. Tens of thousands of jobs in the automotive and components production sector in Romania are in danger, threatened by the growing interest on electric cars developed by the Western Countries, thus restructuring the global automotive industry.
Forum November 9
Are 'smart' sectors the future of Romanian manufacturing?  The role of digital skills 
Education should play a key role in developing digital skills in any field of activity. Modern world encompasses digitalization in evey corner of our life. The 'smart' sectors includ automotive, defense, aerospace, renewable energy and life sciences. How will development for these sectors be supported? What can be done to address the Romania's long-standing problems in scaling up innovation? What skills and what programs will be needed to bolster these sectors and how can the Romanian government and private sectors work to ensure the Romanian workforce is ready for the challenge?
Forum November 9
The future role of energy in Manufacturing. Energy Security
Energy security—the continuous availability of energy in varied forms, in sufficient quantities, and at reasonable prices—has many aspects. It means limited vulnerability to transient or longer disruptions of imported supplies. It also means the availability of local and imported resources to meet, over time and at reasonable prices, the growing demand for energy. Political, environmental challenges, liberalisation and deregulation, and the growing dominance of market forces all have profound implications for energy security.
Forum November 9
Industry 4.0 Applications for Medical/Healthcare Sector
How did the pandemic play a positive role in creating and developing new online healthcare platforms? Telemedicine is a solution developed to empower clinics and hospitals to augment their services to e-therapy, expand their reach and grow while offering patients end therapists an excellent digitally- enabled experience. Keeping and developing digital platforms after the pandemic. New solutions designed to complete a diagnostic system and new digitalized platforms for collecting medical data . Digitalized pharma as a tool for helping patients
Forum November 9
Cybersecurity for Manufacturing and Critical Infrastructure
Protecting IT and OT Resources Against Advanced Threats in Manufacturing and Critical Infrastructure. The convergence of operational technology (OT) and information technology (IT) has a significant impact on manufacturing cybersecurity. Specifically, industrial control systems (ICS) and supervisory control and data acquisition (SCADA) systems that have historically been air gapped are now being connected to IT systems—and therefore to the internet. As the air gap is removed, these systems are vulnerable to an increasingly advanced threat landscape and are targets for hackers involved in terrorism, cyber warfare, and espionage.
Conference November 8
Strategic Doing
It is a new strategy discipline that is lean, agile and fast—just what companies, organizations, communities and regions need to survive and thrive.
Conference November 8
Renault Group a frontrunner in I4.0 and digital transformation [Renault Group]
Our production system is future-focused, undergoing a major transformation in response to the changing challenges of the automotive industry and the expectations of our customers. The 4.0 revolution is ushering in new business functions, new skills and new tools. It is the driving force behind a connected, agile and competitive production base.
Conference November 8
The way to a net zero factory – Smart utility metering, reporting and modular open automation. [Phoenix Contact]
How brownfield factories in resource-intensive industries can meter, analyze, and report their utilities through a holistic digitalization and automation concept, but also how standardized, flexible, and agile automation, without having to intervene in the inventory process, can increase condition-based maintenance or productivity.
Conference November 8
MONEO – the Toolbox for the digitalisation of the factory [ifm]
As an IIoT platform, ifm moneo combines the level of operation technology with the level of information technology. The sensor data generated in the production plants can be read and processed easily and used as a basis for sustainable corporate decisions..
Conference November 8
Electrification, mission possible [Enel X]
We promote and prioritize electrification as a winning tool to bring about the energy transition, reduce the impact of climate change, achieve decarbonization and construct a new model of sustainable development. We have a vocation for innovation and digitalization, plus the capacity to translate these drivers into an ecosystem of solutions for people and businesses.
Conference November 8
5G and Private Wireless, the technology enabling Industry 4.0 [Nokia]
Nokia Corp (Nokia) is a communications and information technology company that operates in the areas of network infrastructure and advanced technologies. It offers fixed networks, mobile phones, WiFi systems, IP routing, subscriber data management, network implementation, network modernization, IoT, and 5G services. Nokia also offers network management, mobility, professional, managed, analytics, and application services. Nokia serves mobile network operators, enterprises, government, public safety, financial services, retail, energy and resources, automotive, healthcare, logistics, manufacturing, and transportation industries.
Conference November 8
Power of automation by KUKA
KUKA is a global automation corporation with sales of around 3.3 billion euro and roughly 14,000 employees. The company is headquartered in Augsburg, Germany. As one of the world's leading suppliers of intelligent automation solutions, KUKA offers customers everything they need from a single source: from robots and cells to fully automated systems and their networking in markets such as automotive, electronics, metal & plastic, consumer goods, e-commerce/retail and healthcare.
Conference November 8
Government Cloud [The Authority for Digitization of Romania}
The Authority for the Digitization of Romania is a structure with legal personality within the Ministry of Research, Innovation and Digitization. ADR has the role of realizing and coordinating the implementation of strategies and public policies in the field of digital transformation and the information society.
Conference November 8
Digital Twins in Manufacturing [Microsoft]
Manufacturers gain a competitive advantage with Digital Twins.
Used in conjunction with the internet of things (IoT), today's digital twins unlock multiple capabilities. Manufacturers can use them to remotely monitor and manage production, gain invaluable information for real-time decision-making, improve strategic planning and operational efficiency, and innovation.Used in conjunction with the internet of things (IoT), today's digital twins unlock multiple capabilities. Manufacturers can use them to remotely monitor and manage production, gain invaluable information for real-time decision-making, improve strategic planning and operational efficiency, and innovation.
Conference November 8
Industry 4.0 in SME - Software make it possible [INEA RBT]
With the help of the central Industry 4.0 platform, data exchange in your networked production processes is automated and optimised. The OPC Router connects systems vertically and horizontally, from sensor and controller to ERP and cloud, from printer and scale to MES, SCADA or LIMS.